How are your "March to the Finish" projects coming along?? I showed you some of my progress yesterday and I appreciate all the kind comments and emails. Ya'll put wind in my sails. I'm excited to get more done.
Katharine, at Just a Thought tackled her pantry this month and I want you to see her "Before and After" photos - it's absolutely inspirational. She even organized her craft supplies in there and it looks functional and pretty - something most craft areas fail to ever achieve :). Stop over and admire. Way to go, Katharine!!
There is still another week to go in the month of March...and for those of us who need to have a fire lit under our arses to get us going, now is a good time to get our rears in gear. What can you get done in a week? Probably more than you can in a month of just thinkin' about it! I'd love to see lots of "after" pics next week...how about it, Company Girls??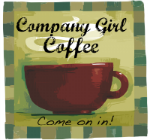 Let's get motivated with a cup of coffee. This is a chance for you to link your blog up and invite people to stop in. Company Girl Coffee is easy and laid back....no stress at all. Join in!