How are ya'll coming on your March to the Finish projects? I feel like I lost a little ground the last few days but I'm still managing to get things checked off my list as I clear my schedule for the Assault on the Barn.
Some of my projects have been easy and I've wondered why I've put them off for so long. For example, when I re-did my office a couple of months ago, stuff I didn't know what to do with landed in my bathroom and then just sat there. And sat there. I put "Clean out bathroom" on my list and I finally just carried the stuff off....to a different corner of the house....but at least not a corner I see EVERY SINGLE DAY. After I removed the boxes, I even spruced up my bathroom with a sheer curtain, which I hung from the ceiling. Total time: 45 minutes, including hanging the curtain. I'm ashamed and proud at the same time.
Still hate that 70's tile. But the curtain helps, don't you think?


All of these minor tasks are in preparation for the major barn storage attack, which will start at the end of next week. Next weekend I'll have a small dumpster delivered (the kind used for home renovation), and will schedule a donation truck to come and pick up what we don't toss or keep. I found reasonably priced storage bins at Walmart (18 gal. bins for about 5.00 ea) and plan to buy up all I can so what's left will look nice and neat. 
Now, one of our Company Girls, Sue, noticed something on my list on Wednesday. She commented, "Does Flash know he's on your To Do list? Does he know what you're planning 'To-Do' to him?" Ahem. No, he does not. Flash is on my list so I can make an appointment with a vet to have him gelded. Sshhhhhhh. See, male donkeys can get cranky and unpredictable when left "intact"....and even though we've NEVER had a problem with Flash, I don't want to find myself in a situation in which I wish I'd taken care of it sooner. However, he might have to wait until all this "March to the Finish" flurry is over so I can focus on caring for him after his surgery. I'm not sure, but I think he will be depressed for awhile and will need extra TLC and carrots.
Oh, nuts. Life is about to change for my shaggy donkey.

I received several "before" photos this week - of projects that some of you girls are tackling! I've got to say, seeing them makes me feel a little bit better about my own pile. Not that they were any worse than mine (not at all!) but you know how a pile of clutter and junk can really just make you feel alone and unworthy? That's how I've felt about things. Like I've made such progress in so many areas of my life - the house looks good, the family is fed, there are flowers in my flower pots - but this awful little secret lurks beneath the surface and threatens my peace of mind every time I've thought of it. Ugh. Knowing that I'm not alone has made me feel....empowered in a way. I feel part of a sisterhood that knows the pain of not knowing what to do with the stuff of life. It's not easy to be a Keeper of the Treasures while prudently managing everything else. The priceless mementos get saved along with magazines from 2001 (which seemed priceles at the time) and the broken weed-eaters... and soon it just becomes too much. Thanks for being there for me, my sweet Company Girls. Next weekend, it begins full throttle.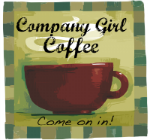 It's time for Company Girl coffee! This would be a great time to share your own "March to the Finish" projects on your blogs or via the comments. You might want to indicate that in the subject line so we'll know to look for it! Even if you aren't participating in any major project, feel free to join in and get to know other great bloggers! Have a great weekend, girls.
Rachel Anne
PS I'm saving the "before" photos I've been sent until I can pair them with their "after" photos for maximum impact!