I've been making tissue paper pom poms like these in my spare time this week:
Instructions can be found here: MarthaStewart.com
Mine are all made out of white tissue paper and I'll have about 50 of them when I finish tomorrow. Yes, 50. They aren't that hard to do and I figured that they take me about 6 minutes apiece....10 per hour.....yikes! That's a lot of tissue rustling. I wish I'd taken a photo of my living room floor, covered in white puff balls before I scooped them into big garbage bags for transport! It was quite a sight, and quite dreamy I might add. It looked like a cloud had settled on my carpet.
So what are the puffs for, you ask? They will be decorating my church for this weekend's marriage conference....the romantic dinner and dance part of it on Saturday night. We are going to hang a bunch of them over the dance floor with fishing line so it looks like they are floating, and also use them for centerpieces on the tables. But our little twist is this: we are going to tape some small LED lights inside each one so they will glow. I will definitely take photos because I do think it will be a cool effect. If THAT doesn't spark romance, I don't know what will. :)
If you want a Small Thing to do today, I suggest enjoying the Inner Sanctum of your bedroom in some way. You've given yourself a place that is clutter free and inviting - a retreat that is just for you. If you did not get anything done in there this week, why not take today and make it special? You deserve this. I really mean that.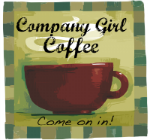 I'm ready for some coffee. Or maybe some tea today. Either way, it's time for Company Girl Coffee, the weekly link-up that is just for YOU! Simply link your blog post URL into the linkytool below to join in the fun. It's a great way to meet new people, get creative ideas, share your thoughts and most likely a laugh or two! Have a wonderful weekend!