Before we hop into Company Girl Coffee time, I want to say thank you for your encouragement yesterday. Things were pretty awkward around here but, as it usually happens, things have a way of blowing over. But not without a humble apology first. Why, WHY is that so hard to do?? It took me almost two days to work up the ability to say "I'm sorry." It sucks being so hard-headed sometimes.
Our Small Thing today is something that sucks as well, but pleasantly so.  Now, correct me if I'm wrong but do I think it's been awhile since we've taken out the vacuum as one of our tasks and yes, and that truly DOES suck.... unpleasantly.  We should be getting Company Girl credit for easy things that need to be done regularly! What have I been thinking??
Today's Small Thing is to vacuum one room.  See, sometimes I put off vacuuming a room like the living room, because I feel obligated to do the entire house.  But nothing could be further from the truth.  Vacuuming ONE room is perfectly acceptable and even DESIRABLE, because it means that you pay attention to the details.  It means that you don't mind getting in there are doing a "quick run through" to make things nice.
Song of the Day: Whatever it Takes, Lifehouse
How about you? Do you put off doing sucky things because you think it will be too hard? A task, an errand, an apology? Once you decide to do it, it's usually much easier than you think it will be.....and ALWAYS worth it in the end.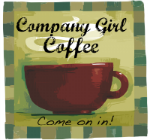 Tomorrow morning, I'll be joining the women at my church for a prayer breakfast and a chance to hear one of our own Company Girls, Jan Johnson speak! You might know Jan from our weekly coffee meme, where she is a regular linker-upper. I love Jan's blog and I come away from her posts with a chuckle or a nugget of wisdom...and always something to think about. Jan goes to my church and I know we will be in for a treat tomorrow. If you're interested in coming and you're in the Dallas area, we will be meeting at Midlothian Bible Church at 8 am.....I'd love to meet you and share a REAL cup of coffee with you! :)
Now, for a VIRTUAL cup of coffee (or tea, whichever you prefer), this is your opportunity to enjoy one with new friends. I love that so many of you have gotten to know one another through CG Coffee Fridays....we have a wonderful community of women and I encourage you to find a new name below to go and visit over the weekend. The past couple of weekends have been crazy for me and I haven't gotten around like I like to, but please know how much I appreciate each of you for your great participation! I hope for better luck this time :)
Have a wonderful weekend!
Rachel Anne