The Small Thing for today is something really, really easy.  You hardly have to do anything at all to participate.  No heavy lifting, no breaking a sweat....it's a perfect little job for a Friday.
Today's Small Thing is to dust the picture frames in your house. 
The ones on the walls are the most easily missed and you might be surprised at the amount of dust that settles on them.  You can take a soft cloth and wipe them down, or use a feather duster or even a vacuum attachment to remove the dust.  Just get them looking spiffy and your home will start to sparkle!  Easy.
How many framed items are in your house? I have 12 just in my bedroom alone! Phew, this is going to feel GREAT to get done.
Song of the Day: Pictures of You, The Last Goodnight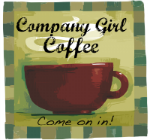 Time for coffee, ladies! Company Girl Coffee is a weekly feature that gives everyone a chance to get to know one another. If you are a blogger, simply invite people to your blog by linking up below. Everyone, blogger or not, is encouraged to go and visit the blogs that link in - stop in and say "hello" and maybe make a new friend. Non-bloggers can participate by chatting it up in the comment section. If you are reading this post via email, you'll have to come to Home Sanctuary in order to see the blogs listed. Have fun....and have a wonderful weekend!