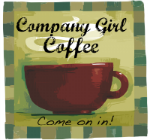 This morning I'm going to put a virtual coffee pot on and let you girls get started chatting. I've got to take care of a couple of things right away so I won't be able to finish up my post until a little bit later this morning. But don't let that stop you from linking up below and visiting Company Girl blogs!
Later today, I'll show you photos of my office re-do progress. I picked the week before Christmas as the time to tear into it - GAH! Zoanna asked me to show "in-process" pictures, not just "Before and Afters" and I think that's a great idea. I'm quite sure you'll love seeing the complete disaster that is my office right now - it's a beaut! Can't hardly walk in there!
As for Today's Small Thing, it is to continue working on your Housekeeping System.
I gave you a lot of charts and things to think about and fill in....and I hope you weren't overwhelmed by the process! I have to tell you that I was really challenged as I looked at my time and realized how many "unfocused" hours I have in my day. When I work at home, I do a little laundry, check my emails, hop on the computer.....whew! My time just slips away. I am determined to set "work hours" to help me be more productive.
How about you? Did you find any of the exercises this week challenging? What did you find out as you sat down to work on setting up a simple schedule? To be completely honest, I found that I really don't like to commit to anything I think I might fail at. I've had to swallow hard and press on in order to get over my past failures in this area and simply START FRESH. I appreciate all you ladies for sticking with me and doing the same! 2012 is going to be a great year.
If you're reading this post via email, you won't see the blogs listed below....so just pop over to Home Sanctuary to find them in this post! See ya'll later today!