Happy Birthday, Grayson!

Our son celebrated his 18th birthday this week....and of course, I'm sentimental about this milestone. I was going to scan in some of his baby pictures to post here for the occasion, but I think I'll wait until graduation - when I'm REALLY a blubbering mess.
Isn't he cute?? Just look at that kid.
Can't help it, but I still want to just pinch him.
Gray has been such a gift to me, and it's hard to imagine that my time with him at home is coming swiftly to an end! Not that he doesn't try my patience every now and then...but then again, what teenager doesn't? He makes me laugh constantly and I'm forever trying to get him to eat more food so he can gain weight. What a problem. He is funny and smart, sweet and mature. We are so very blessed by this kid - I mean, young man. I really can't believe he is 18 and will be voting this year. Where has the time gone? (cry)
Last night, Gray had a late hockey game in a town over an hour away (we lost, boo), and we did not get home until after midnight. By that time, I wasn't feeling too well and my nice, well-meaning husband made me go straight to bed without letting me finish up my birthday and Small Thing post for today. I guess this will have to do...a half finished post - late. I hope you'll forgive me!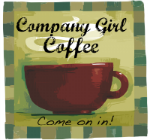 So let's go straight to Coffee time. It's our weekly link-up of readers that is all about YOU! Simply enter your blog post URL into the linky tool below to participate.....then have fun visiting all the great blogs that link up! I actually made it around to all the blogs last weekend, and I loved getting to visit with everyone. We have some incredible friends here, folks, so don't by shy about joining in. Can't wait to visit with you again this time. Have a great weekend!