I have a fresh excitement for Home Sanctuary in 2012! Did I mention I have a few things up my sleeve for this coming year? Here are four:
I'm bringing back monthly devotionals - one verse each month, artfully displayed, for you to download, share and print to your heart's content. YAY! Now Melissa at Seven Matters can replace the old verses from 2008 with some new ones for her laundry room. :)
We'll see more prizes and drawings this year. Now, I'm not going to bring back daily "points" for tasks, although I've been sorely tempted to. It's great fun for the 50 or so people who participate, but probably not so much for the hundreds who feel a bit defeated by not "earning" points if they miss doing a Small Thing. That's OK....we'll just find other ways of giving prizes to ourselves, right?? Can't wait.
I've been working on re-doing my studio office so I can easily create artwork and new organizational tools for us to use. I'm revamping To-Do lists and housekeeping schedules so they are prettier, and therefore, more likely to get used.
Project challenges - time to tackle some BIGGER projects....but thank heaven above you won't be alone. Oh no, we're in this together, my friends.
Is there something YOU might like to see happen here at Home Sanctuary this year? Leave me a comment or send me an email and let me know!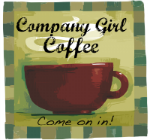 Our Friday feature, Company Girl Coffee, will continue on as we have done for the past couple of years. It's an easy and fun way to get to know each other. In fact, why not join in today? Simply enter your blog post URL below, inviting people over to meet you. Then get around to as many linked blogs as you can. Even if you don't link up yourself, I hope you'll take a few moments to stop in at some of these fantastic blogs.
Happy New Year, Company Girls! See you Monday, ready to take on 2012!!
Rachel