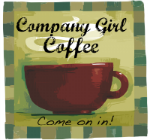 It's been a good week! I've had fun seeing seeing the results of our efforts to spruce things up around here for the upcoming wedding. The winter rye grass is coming in beautifully and almost all the lights are hung. I will get some photos together to show you our progress next week - I just haven't had time to upload them and get organized.
Since we are on an extremely tight budget, we are having to stretch our imaginations a bit. We've dug through things in our storage to fill in gaps, like resurrecting two end tables that have almost been thrown away twice. I hit paydirt with a neighbor's garage sale and found some great stuff to use both for the wedding and beyond. (3 sections of old picket fence!!!)And, with paint and elbow grease, things are getting in shape for 250 guests. The wedding is now only two weeks away!
There is no Small Thing today, but coffee is on me! Feel free to link up below to share a virtual cup of coffee with other Company Girls. Have a great weekend!!