This week I painted and distressed a fireplace - TWICE. The first time, I did it the way I THOUGHT my friend (who hired me for this job) told me to do it.
The second time, I did it the way she ACTUALLY told me to do it.
Somehow, in the course of discussing the project, I did not do what I always do for clients. I guess I skipped an important step "because she is my friend," and not just another client.
I did not ask for a picture of what she had in mind. And I did not make a sample. We just assumed that we knew what the other was talking about.
The problem is that terms like "distressed" can mean about 100 different things. And so can "glazing," "antiquing," and "shabby chic."
The first result was a simply lovely, aged fireplace treatment.
Version #1 - nice, but not what my friend envisioned.


Glazed to perfection.......too bad it wasn't the perfect picture of what my friend was wanting! It put her in the awkward position of having to call me and say, 
"Uh, Rachel....about that fireplace? Can we talk about it?"
So on Wednesday, both of us got on ladders and started sanding it off. There was white dust everywhere and we did more laughing than working, but still, it wasn't easy. This time, I had a clear idea of what she wanted because I repeated back to her what I heard her say, going back and forth several times until I got it - and then we worked on the project together.
The second result is fantastic. Aged, distressed, antiqued, shabby chic. All the same words as before, but what a difference! This time, we took the time to communicate clearly and worked together to create the look she wanted.
Today's Small Thing is to work on your communication skills.
Repeat words back to the other person. Say something like, "This is what I hear you saying....." and when you do, you may be surprised at the clarity that comes. Listening is an important part of communicating, and sometimes we are so quick to put in our two cents that we plow right past what someone is trying to say to us....and miss the meaning behind their words. Taking that extra step to listen and repeat someone's words back to them can save a whole lot of grief AND make things go so much more smoothly. It validates the other person and puts you both on the same page.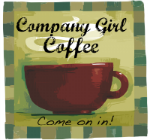 It's time for Company Girl Coffee! the weekly link-up that allows you, the reader, to host guests to YOUR blog. Simply enter your link into the Linky Tool below, and then others can find you and get to know you by stopping over. Try and stop over to visit a few of the blogs that link up if you can....these are wonderful gals with lots of fun things going on in their worlds!