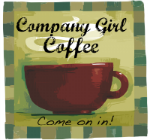 Girls, I'm ALMOST done with the work at the TV studio. A few things got added at the end so I'm still putting in some long days to get it all done before the Tuesday deadline. I thought you might like to see what it looks like so far.
My painting, which I showed in previous posts as I started it, is D.O.N.E. and framed! It hangs front and center over the fireplace, and is titled "Autumn Respite." I have died a thousand deaths over this piece....but here it is.
Here is another piece I did for the kitchen area. I really like how this turned out....
......you'd never believe it started out as a crumbly plaster mirror! It's amazing what a coat of black spray paint and some copper, gold and silver dry-brushed over it can do. I spray painted right over the mirror and then hand-painted the background and fruit swag.
Textured wallpaper is back in a big way, have you noticed? This anaglypta pattern was painted with Sherwin Williams Tranquil Aqua and then lightly glazed with SW Folkstone to bring out the design.
 
Here's a side table I re-did....my first attempt with Annie Sloan Chalk Paint. Also in the photo is a chair that needed touch up and wrought iron that received metallic accents.  

My husband, Tom, knocked himself out with these walls. He used a wonderful product called American Clay....it is made of all-natural clay and pigments that gets hand trowelled on. The client wanted a southwestern look so he made it look very textured, but you can make this stuff look like venetian plaster of give it a smoother finish if you like. I love how it looks and want it in MY home! 
 
I wish I had a photo handy of the hutch I'm working on today (and the rest of this weekend.) It is huge and gorgeous, but the finish on it wasn't right for the scale of the kitchen. So it is getting painted and glazed and reworked to make it fit the space. I'll show you before and afters next week, assuming I survive it.
So that's quite a bit of the studio....what do you think?? The decorators are putting their talents to work and filling it with the "frou-frou" stuff so it will be ready for the first shoot, and I can't wait to see it completely FINISHED!!!
It's time for Company Girl Coffee! It's the weekly link up that is an easy way to find each other's blogs and get to know one another. (If you are not a blogger, simply chat in the comment section so we can get acquainted and caught up on what's going on in your life.) Hope you'll join in!
I'll have Today's Small Thing and a new Tally Sheet a little later this morning, so please check back in for it. Have a great weekend!