On the heels of yesterday's easy task, we will tackle yet another easy one.
It's like we never really WORK around here....so how is it that sanctuary happens with such little effort?? It's a miracle, I tell ye.
Today we are taking a cue from the FlyLady, and will simply shine up our sinks.
  I really like the philosophy of keeping your sink shiny, except that in the summer time, it is super hard to stay on top of dishes and sink-shining.  I don't have the time or inclination to be the Sink Vigilante all day, so I'm pretty content with keeping the mess to a reasonable minimum and then doing everything up at the end of the day.  I mean, really.
My old Barn House has the kind of kitchen sink that shows every scratch and stain, a real treat to care for.  But some Comet, a sponge and about 2 minutes of elbow grease gets them looking presentable...and dare I say....FlyLady worthy. 
Today's Small Thing is to shine up your kitchen sink. That's it, the end. 
You can do this!
Song of the Day: Shine On, Needtobreathe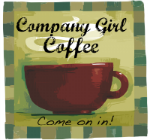 It's time for Company Girl Coffee - our weekly meme that simply allows us to invite each other over for a virtual cup of coffee. Link your blog's URL into the space below! Everyone is welcome - try it and make some new friends! Non-bloggers (that's most of my readers, btw) are welcome to chat in the comment section....tell us a little something about yourself so we can get to know you!