It's been a whirlwind week around here. I barely got my Christmas tree down (outside lights and some garland still up) when we started on a last-minute faux finish project at a church in Ft. Worth.

Isn't that a gorgeous wall? I can say that because I had nothing to do with it, except - see that blue tape around the door and baseboard? I did that part. Yeah, I did all the taping. My talented husband did the rest. 
Oh, and I also critiqued as he went along, just to be helpful. It's what I do.
But I have to tell you, I was heartbroken to do this project. You see, we'd already done a beautiful finish and border on those walls about a year ago. It looked like subtly aged creamy plaster, a look that was not easy to accomplish on "orange-peel" texture. But however beautiful it was, it just didn't have the drama that the designer felt it needed, after getting everything else done in there. So we swallowed hard and made some new sample boards.
And I have to admit: starting over was a good idea. The room has been transformed into a warm, rich, welcoming area for guests and staff alike in this church. Even though I couldn't see how at the start, being willing to risk "ruining" something that was perfectly fine paid off in a big way. I'm so glad we were forced to do what we didn't want to do. The end result is stunning.
I wonder if you have ever had to risk starting over on something? Maybe a paint color that wasn't what you thought it would look like, or a recipe that didn't taste right? Or maybe you've had to start over with an apology to a friend or spouse, or go back to square one on a work project. Starting over, especially on something that turned out "OK" but not "great" can be hard, but inevitably the extra effort required will be worth it.
Today's Small Thing is to be willing to start over on something in your life. It could be as simple as some afghan stitches that are too uneven, or a big as a marriage that feels lost. Don't see "starting over" as a failure, but as a means of growth that will produce something you'll really feel good about in the end. It just might mean that something unexpectedly beautiful will happen, even if you don't see it now.
POINTS: 50 for starting over. This might take a little bit of thinking, so go ahead and use the whole weekend to accomplish this Small Thing.
Song of the Day: Worthy/Let All I Do, Aaron Shust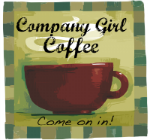 Feel free to link up for Company Girl Coffee! It's an easy way to invite fellow (fella?) Company Girls to your blog so ya'll can get to know each other better! If you don't blog, we welcome using the comment section to chat - so tell us who you are and a little something about yourself, and let's get acquainted!