Thursdays are very long days. Yesterday, for example, I got Gray off to school, ran some errands, came home and worked on a design project, ate a sandwich (2:30 pm), drove through Dallas traffic to drop off digital files for someone, came home, figured out something to make for dinner and then sat down to some emails and papers.
It was then that I glanced out the window and saw Flash, my donkey, nonchalantly walking through the yard.
Not in the pasture. Nope, jest walkin' along, looking for some green grass. In my YARD.
The gate had been left open and, being an opportunist, Flash made a break for freedom. Fortunately, he was easy to put back into the pasture this time...we let him follow us instead of trying to lead/pull/tug him in. No grain was even required.
Then it was off to a hockey game: an hour through rush hour traffic to get to the rink, and hour to wait for the game to start, a two hour game, and then an hour to get home. I'm the designated video taker at the games....and I forgot my gloves.


Finally, home at 11 pm! Unfortunately, I had not had a chance to pull a blog post together for Home Sanctuary OR Going Beyond earlier in the day, so it was a late night last night by the time I finished.
Now, don't go getting all impressed or feeling sorry for me. I'm doing what millions of other women are doing - the best I can with what I've got. Most days I really feel that I fall short of what I "should" get done. There are dishes in my sink and a ring around my tub. I really need to vacuum. I've bought only one gift so far. And with Christmas right around the corner, it's easy to worry about trying to pull off a spectacular family event. I'm not feeling real confident about that.
But hey.
Today's Small Thing is this: Don't sweat the small stuff. Embrace your life's imperfections. Laugh a little. Savor a moment.
Maybe those sound like BIG things - and they very well could be, because I don't know what your circumstances are - but I think today is a good day to take a deep breath and appreciate. Appreciate the busyness of this season, the chaos of recitals and class parties, the twinkling lights of the tree. Really, each day is a gift - and so what if we don't get everything done? The sun will come up tomorrow and we'll get a whole nother chance to try. We should be opportunists, like Flash, and make a break for freedom - the freedom to enjoy the day.
POINTS: 40 for finding something to enjoy, appreciate and savor today. There is beauty in imperfection and sweetness in the mess - if you look for it.
Song of the Day: Christmas Song, Owl City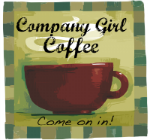 What will you enjoy today? What will you find to appreciate? I'd love to know! Link up for Company Girl Coffee...you can use today's Small Thing as a prompt if you'd like :)
Have a wonderful weekend!