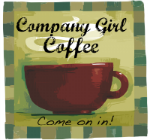 Happy October, my friends!  I'm posting today from the beautiful state of Maryland, where I've been invited by the wonderful ladies of Burtonsville Baptist Church to speak at their women's retreat this weekend. I'm so excited to share what God's put on my heart and can't wait to see what He will do. Plus, I hear these gals have some fun board games and karaoke planned....woot!
Now, since I am out of town and will not have internet access after this morning, there will not be a Small Thing for today or Monday. I'll be back on Tuesday and will also post September's winners...you'll have to sit tight for a few days, if that's ok.
But, by all means, don't let my weekend festivities get in the way of your "Coffee Time" here at Home Sanctuary.  Feel free to link up and visit each other, chat away in the comments, or otherwise be your friendly little selves. I've heard that a couple of Company Girls have met in real life this past week..LydiaCate (our non-blogging, very pregnant, very special CG) and Lea of CiCi's Corner, another incredible Southern woman. Check out Lea's report on her blog - how cool!
Have a great weekend, and I will see ya'll on Tuesday!
Love, Rachel Anne
PS If you haven't turned in your points or drawing entry by email (see yesterday's post) you can have until Sunday night, midnight CST. That's GMT-6, I believe, for our European CG's.