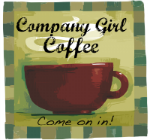 I'm back in Big Spring, TX to finish up Life Church's children's murals. Everything looks exactly as I left it.
Half done.
To get into the spirit of painting "on the road", the first thing I did was splurge on Sonic fast food for dinner.
The strawberry-banana smoothie was an excellent choice.
The large order of tater tots was not. What was I thinking??
I knew half way through the carton that I would regret it, but I waited until I was completely finished with them to let the feeling of remorse finally sink in. Is it any wonder that the package itself says, "Don't feel bad about eating these tots?" Feeling bad about eating greasy deep fried nuggets of shredded potatoes that make your intestines complain must be a universal reaction.
I hope ya'll have had a great week. Company Girl Coffee is our chance to link up and makes some new friends/visit with old friends. Just grab the coffee logo that's over in the right sidebar and put it into your blog post...and then put your link here. Non-bloggers are encouraged to visit with us in the comments...and don't forget we also have a community with a forum for chatting as well!