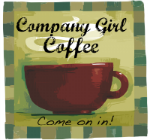 I'm writing this from Big Spring, TX, where I am working with Life Church to design their children's wing.  I have drawn up artwork for the main hallway and classrooms, and then their people will be doing most of the work...kind of a "paint by numbers" idea.  We are going to the site this morning to walk it, measure, pick paint colors, layout floor plans, and get as much done as we can by 2 pm, when I will then drive 5 hours back to Dallas.  (I can't miss my son's hockey game against their arch rivals!)  I'll be sure and take "before" photos so when this project is done, you will be able to see the transformation.  I'm very excited about it!
This has been a fun week of Small Things and chatting within the comments.  Let me tell you, the food discussion yesterday had me thinking that our next project should be a Company Girl cookbook!  Some of your "everyday" foods sound incredible!  Maybe some of you would be willing to post your recipes as part of our virtual coffee time today?  If you don't blog, you could leave your recipe in the comment section. Yum.
Let's enjoy one another's company throughout the weekend!  Simply link to a specific post in your blog below, or participate through comments here if you don't blog.  Remember that most of the Company Girls are non-bloggers and I want to make sure that you know that this is not an exclusive blogging club.  I love that we can share in each others' lives here...it really does feel like a community, and that's what it's all about.