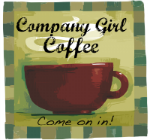 It's a holiday weekend here in the U.S. so we should rock out with a classic song.  We will not have a Small Thing today or on Monday...so RELAX, ENJOY the weekend and have fun!
But first, did ya'll meet our newest Company Girl, Emily Grace, born on May 13?  Proud mom and dad are Joyce and Norm...and big sister Melody is proud, too.  Congratulations (a little late) and best wishes for a wonderful ride!  She is beautiful.  Joyce, you will have TONS of Company Girl photos to share!
Thank you for your kind wishes for better health.  I DO feel better, what with all that spinach and all.  It's amazing what the right vitamins and minerals will do for a body. Just walking across the room was making me feel like I'd climbed a mountain, but I know I'm on the mend.
Last night, I did a super fun interview with the Musing Mommies, Kim and Dawn!  They do weekly podcasts on every topic under the sun, and had a lot of great information and a lot of laughs along the way.  Our conversation was about blogging: my experience as a blogger and tips for newer bloggers.  I believe the podcast will air on Monday, so look for the link to it!
Now, don't forget to mention the Photo Contest on your blog, facebook or twitter today!  Let me know when you've mentioned it and I'll add you in that drawing for the 25.00 Target giftcard.  You know you love Target stuff!  And PLEASE enter your photos....I know you've got some good girlfriend shots just waiting to be shared!!
Mr. Linky has been having trouble, but we'll give it a go today anyway!  If you aren't too busy grilling burgers and hot dogs, feel free to link up!
<