I've noticed that several Company Girls have some fun things going on in the blog world.  Here are a few off the top of my head, and if you would like me to link to something happening at YOUR blog, just let me know.  You can email me, and/or link up below.
Heather
- Giving Thanks by linking up on November 24th with personal testimonies
here.
What a wonderful idea!  
Sallie
- The Great November Giveaway - she's got some great stuff!
Homemaker Barbi
-
Saturday Giveaways:
a way to let people know about giveaways on your own blog, and find other giveaways going on!
Madrid Mom
- helping you approach the holidays "one bite at a time."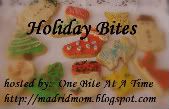 I'm STILL having internet problems, so I was not able to comment on Coffee blogs last week.  I was with you in spirit!  After wasting hours and hours with AT&T, hopefully we can get this resolved.  It's driving us CRAZY!
Today, I am in Houston at a "Church Facilities Expo."  I'm gathering product information and making contacts with people in the construction/facilities/media/furnishings industries, but I'd soooo much rather be planting fall flowers or baking something delicious.  (sigh)  I guess the Lord knows what He is doing by taking a "home" girl and putting her into a business setting, but sometimes I do wonder!
Now, link up, my friends!  Take me from the misery of walking the convention center floor, with a 20 pound bag of literature, away to your lovely lives, far and wide!  It's the only way I'll survive!