There is an old painted clay pot that sits in my flowerbed.
It was one of the first things I ever painted...years ago.
My husband recently said, "Why do we keep that old thing around? It looks awful." 
Obviously, he has no appreciation for the charm of peeling paint. He has never visited Pinterest.

And he didn't realize that, to me, that flower pot is more than just something to hold a plant.
It is history. My history.
See, I painted that flower pot way back in our suburban kitchen during my son's naptime when he was about three. Then I toted it, along with a bunch of painted birdhouses and things, to gift shops to see if they would be interested in buying them. Apparently no one bought that pot, because it came back home with me.
My goal was to make enough money to get my hair done. That was my big business plan.
I had no idea then that my hobby would become a real job one day, or that my huband and I would eventually work together in a creative business. I'd never have guessed that I'd climb scaffolding to decorate ceiling domes, or get to work in Parade Homes or have an online store. 
All I knew then was that I liked to paint stuff. And that my hair really, really needed highlights.
So I painted pots.
I love how God takes the little things we start with....and is able to make something great out of them. Seeds become trees, raindrops become oceans, weddings become marriages, babies become children, ideas become reality. Small Things, like what I post here at Home Sanctuary, become Big Things, important things in our homes. It's good to take time to remember that every now and then.
Today's Small Thing is to celebrate your history by finding an object in (or around) your home that brings a sweet memory to mind.
Is there a book, a photo, a ticket stub, a piece of jewelry, a seashell or a souvenir that could be taken from its storage container and placed in a prominent spot today? If you'd like, you could make a centerpiece with it, as I did with my flower pot, and create a conversation at the table with your family. Dust it off, add some other objects and make a simple vignette that celebrates how far you've come and how much you have to be thankful for. Share it with your family...and let them enjoy the warmth that memories bring.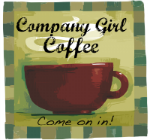 I'd love to know what object you'll find to help you celebrate a memory! I hope you'll share in the comments...or link up below for Company Girl Coffee. You can post about anything you'd like, but this might be a fun prompt! Company Girl Coffee is open for anyone who'd like to join a really great group of ladies for a virtual cup of coffee. Link away!
Enjoy your weekend.
Song of the Day: Making Memories of Us, Keith Urban