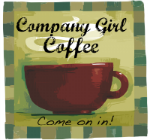 Thank you for your extension of grace to me yesterday. I was pooped! I took most of the day to do a little laundry, rest and get caught up....it was great. If you'd like to see one of the things I've been working on this week, I've posted about it here.
I've gotta tell you, I have not even attempted to do ANY Christmas shopping yet....I got NADA under the tree so far. But that will all happen next week, when I can go with my husband. I love his "just buy it" attitude when I am agonizing over something that is $2.00 over my budget! He makes Christmas shopping so much more fun that way, plus it's a little more like a military mission: get in and get out. yes.
Friday is the day of the week that I open Home Sanctuary up for a virtual "coffee" time. It's all about YOU! All you have to do to participate is enter your blog URL into the linky tool below - and you'll be inviting visitors over by doing so.  It gives us a chance to get to know each other better! If you aren't a blogger, I encourage you to simply introduce yourself in the comment section so we can put a little bit of information to your name when we see it! Today's Small Thing is a perfect "excuse" to participate because you'll get points for sharing a Christmas memory...either in comments or blog post, or however you'd like to share it!
Have a wonderful weekend, everyone!