In the spirit of "quick and easy clutter control," our Small Thing Today will give us a taste of what it feels like to put a fast dent in clutter. 
This is it: Simply find five things to throw away...and then actually throw them away.

Quick. Easy. Points.
POINTS: 50 (10 for each item)
BONUS POINTS: Up to 50 MORE if you can find five more things to toss (10 points each item.)
See, simplify101 has already inspired us!!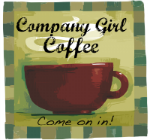 And now for some coffee.  Last week, I made it around to all the blogs that linked up and I sure enjoyed catching up with you all!  Our weekly coffee time is such a simple way to connect, and it always feels like I'm stopping in at a friend's house, (using the back door of course, 'cause that's what friends do) and having a fun visit.  Just put your blog URL into the linky tool and enjoy the company! Non-bloggers can participate in the comment section and we love to catch up with you that way.
Have a wonderful weekend everyone!  I will see you back here on Tuesday, since Monday is a holiday here in the U.S.